Basic Info
Birth Date:
March 17, 1988
Last Login:
July 22, 2011
Member Since:
December 3, 2010
Membership:
Registered User11
About Me
HI IM LILY IM 22 YEARS OLD. I LOVE SMOKING POT. IM A HUGE STONER AND LOVE FOUR TWENTEY. I LOVE SMOKING POT AND LISTENING TO MUSIC. I ALSO ENJOY GOING TO SHOWS.I WORK AT A HEAD SHOP CALLED UP IN SMOKE. I LIKE TO TALK TO PEOPLE AND MEET NEW PEOPLE AND I LOVE HAVEING A GOOD TIME. ANYONE WANNA TALK HIT ME UP. IM ALWAYS OPEN FOR A CONVERSATION.
Who I'd Like to Meet
ALL OF SLIPKNOT,DAVE MUSTAINE,JAMES HETFIELD, AND MANY MANY MANY MORE KILLER PEOPLE. I WOULDVE LOVED TO MET PAUL GRAY. R.I.P. PAUL GRAY. YOU WERE A BADASS. And last but not least joey jordison he is the ultimate badass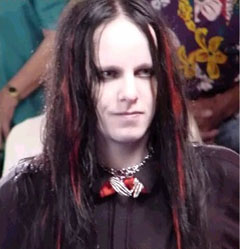 Movies
I LIKE ANYTHING HORRIFIC.
Interests
Music
SLIPKNOT,MEGADETH,METALLICA,PANTERA,CRADLE OF FILTH, TRIVIUM, MUDVAYNE, STONESOUR, MURDERDOLLS,WENSDAY 13, MAIRLYN MANSON, ROB ZOMBIE AND MANY MANY MANY MORE.